It's finally here, the Champions League quarter finals. The round of 16 provided us with thrill, dominance, and arguably the greatest comeback in the history of soccer. Leicester City continued their magical run all the way to the final eight. Barcelona scored three goals in the last seven minutes to overcome a 4-0 away defeat. Bayern Munich devastated Arsenal 5-1.TWICE! 10-2 aggregate. As the quarter finals approach, I'm here to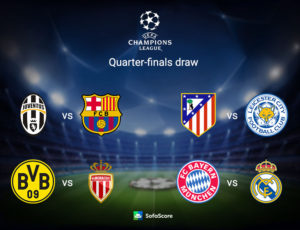 break down this week's match-ups.
Barcelona-Juventus: A rematch of the 2015 final with two of the world's best meet in the final eight. Juventus, a team that prides themselves on a stellar defense, will face their toughest test yet. Although Barcelona has been vulnerable as of late, they still have three of the seven best players on the planet. That alone is enough to make them favorites against almost anybody. With that said, Barcelona is off, something isn't right about this team. They got killed 4-0 against PSG in Paris, and even though they went through, they showed obvious defects that can be exploited by a team like Juventus. The biggest question in this matchup is whether Juventus can create chances.  They struggle to score at times, and often, they struggle to generate chances. Ultimately, I see Barcelona going through in a tight series.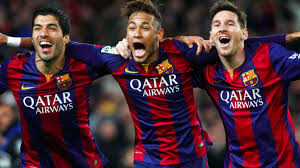 X-Factor: Iniesta- at his best he makes Barcelona unstoppable, Barca are hard to beat and that should remain the case.
1-1 in Turin and 0-0 in Barcelona: Barca go through on away goals.
Real Madrid-Bayern Munich: It's harder to have a higher profile quarterfinal matchup than this one. Two of the three favorites meet up in what should be a thrilling series. Bayern have been seemingly unstoppable as of late, the dominated rivals Borussia Dortmund, 4-1, and it wasn't even that close. On the other hand, Real Madrid came off a 1-1 draw with Atletico Madrid. Real did look good though, they generated plenty of opportunities, but were unlucky. Both sides can score with ease, and defend when need be. With that said, Bayern is just better right now. They've been on fire for a few months now, Real Madrid will fail to reach the semifinals for the first time since the 2010-2011 tournament.
X-factor: Marcelo- apart from what he brings offensively for Madrid, the left back will have to shut down Robben, something nobody pretty much nobody has been able to do in the last decade.
1-1 in Madrid and 3-1 to Bayern in Munich: Bayern goes.
Borussia Dortmund-Monaco: This should be the most fun of all the series. Two teams that go forward with no regards for defense. The draw was pretty favorable for both teams. Let's expect plenty of goals, plenty of saves, plenty of chances, and a lot of fun. Monaco is having a remarkable season, apart from their champions league run, they're top of the league in France. Both teams have brilliant young players, Pulisic for Dortmund, and Mbappe for Monaco are two of the best young players in the game. In the end, I see Monaco keeping their magical season alive and heading to the semi final.
X-factor: Mbappe- The youngster needs to be brilliant for his team to go through, but that's certainly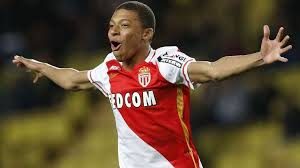 possible given what we've seen so far.
3-2 to Dortmund in Germany and 3-1 to Monaco in France: Monaco goes through.
Atletico Madrid-Leicester City: This series should be as boring as an 11 hour airplane flight with no television or Wi-Fi. Neither team likes to have the ball or dominate possession. Neither team is really creative or generates many chances. Even so, we should look to this series for great defense. I know, if you're watching soccer you don't want to watch two defensive teams play each other, but let's make the best out of it. Both teams are deadly on the counter attack, and watching Simeone yell on the sidelines is enough entertainment on its own. In the end, Atletico are just more talented, experienced and better than Leicester. Atletico will go through for a third time in four years.
X-factor: Carrasco- he's been brilliant for Atletico all season now, if they're to go through, then he needs to keep up his offensive responsibilities.
3-0 to Atletico in Madrid and 1-1 in England: Atletico go through