When you're playing basketball on the court with your friends and one of them is making more shots than usual, you say they have a "hot hand." What this means is that they have a statistically higher chance of making the basketball and will have more success when shooting the ball.  While this topic has been debated for decades, it is still unsure whether or not the "hot hand" is real.
This debate of whether or not the "hot hand" is real was supposedly debunked in 1985 by Stanford researchers Gilovich, Vallone, and Tversky. They determined that the hot streak is simply a random fluctuation in the expected value. The researchers argue that people who notice the streak are simply noticing patterns that do not exist.
Gilovich and company studied the Philadelphia 76ers basketball team and created observations on whether or not an individual was "hot." (See Table 2). Gilovich claims that a player could be hot one minute, then simply cold the next. He argues that the hot hand is an illusion to the mind, and that the hot streak is simply something that catches the average viewers mind.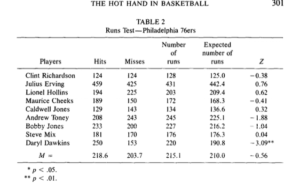 This study shows the in game play for the Philadelphia 76ers shooting percentages and number of runs.
Since this study was conducted over thirty years ago, it is likely many things have changed. Multiple researchers at Harvard decided to rerun the test, and analyzed over 83,000 shots taken over the course of the 2012-2013 season. Although this method may seem rather empirical, they gauged whether or not a shot was considered tough, game on the line, and other factors affecting the hot streak. The results determined a rather significant outcome in that those who were considered "hot," continued to outperform and raised their chances of making a shot from 1.2% to 2.4% (a 100% increase).
While this is still a hotly debated topic, the statistics do align in that there is definitely an increase. Though it may not raise the odds significantly, there may be some psychological and statistical factors that affect the "hot hand."