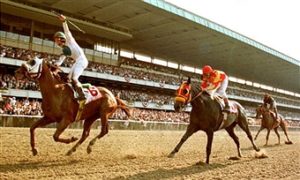 René Douglas (Arm up) after winning a race at Arlington Park in Chicago.
To the casual eye the distance may not seem like much. 10 to 12 furlongs usually never do. To a select group of highly trained and specialized athletes, however, this mile and a half of paved dirt symbolizes a lifetime of hard work and sacrifice which can either end up in dazzling victories or crushing defeats. Horse Racing is often ignored as a serious sport in the United States, instead viewed as little more than a gambling venture along the same lines as a slot machine or poker game. The true beauty of the sport is disregarded by many except for the select few destined to ride the magnificent animals into glory. Today's interview centers around one of these men, whose life is intertwined with the majesty of the sport he thrived in and, even after tragedy, is still fully determined to leave a lasting mark on the sport that defined him.
Humble Beginning
Our story begins on March 3rd, 1967, in Panama City, Panama. René  R. Douglas was born into a Thoroughbred Racing Family. Both, his father and grandfather were trainers, and from the young age of two, they took René to the race track. René, who was of low weight and stature, stood out from his tall family, and that distinction is why his father asked him if he wanted to become a jockey. At first he refused, but as he became continuously more involved with the horses; he realized his passion and finally decided to dedicate himself to becoming a jockey.  Douglas attributes much of his success to his family's involvement with horses as trainers and owners. "I was lucky that my family had horses. I think it was easier for me knowing that they had horses and trained horses. Of course you had to go through the Panamanian Training School so no matter how many horses they had you still had to go and graduate like everyone else. At least I had a chance to get on some horses with my dad and it made it easier for me."Douglas said. After jockey school, Douglas began racing in the Panamanian circuit. In Panama, horse racing is one of the most followed sports, this national passion resulted in many  Jockeys racing for love of the sport instead of for money. However, Douglas and fellow Panamanian Jockeys pursued their dreams of becoming Professional Jockeys in the United States. René Douglas was able to achieve his dream through his hard work. The next chapter of his life involved living out his childhood dream.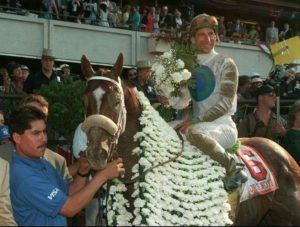 René Douglas after winning the Belmont Stakes. (1996)
The Dream of a Lifetime.
René Douglas arrived in the United States at 15, but said he was "too young at the time to be here (the US)," alone. However, as time passed, his Horse Racing and life improved, which made settling in much easier. He won his debut race in New Orleans, in 1982, and his first major win came later in 89' at the Washington D.C. International. As he continued to win, his popularity grew. His profession as a jockey led him to travel the country participating in races in Los Angeles, Chicago and New York. Over time, Douglas became acquainted with several big named athletes of the time.  Then, in 1996, came the biggest win of his career, The Belmont Stakes, the third and final leg of the Triple Crown series. " Of course that was my biggest win, the three most important races in the United States are the Kentucky Derby,The Preakness,and the Belmont. I was lucky to win the Belmont and it was very special. It's the dream of any rider and to me it was very special." Douglas said. While Douglas has over 3,700 Career wins, including the Belmont Stakes, but more impressively, he won seven races at Arlington Park, in Chicago, in one day. He also won six races in one day on two occasions at Calder Race course.  Douglas says 'he grew fond of Arlington because it inspired his love for Chicago'. " Arlington reminds me of home, the people are nice and it just feels like home." Douglas said. However, like all stories, the story of René Douglas the Jockey, took a sharp turn.
Born to Be
On May 23rd, 2009, while riding Born to Be at Arlington Park, Douglas was injured. I recall fondly being in the Douglas' home, ( René is my uncle) and not knowing what had happened. I remember my aunt Natalie rushed out and went straight to the airport to get on the first plane to Chicago to see her Husband.
A Dream Deferred.
It took Douglas and his family time to adjust to a post-racing life after the 2009 injury. Even though he could no longer race, Douglas never lost his passion for horse racing. His love for the sport led him to stay involved, but now, he would become an owner. In 2011, a few friends reached out to Douglas with the opportunity to buy a horse and manage it. Douglas' first horse, Golden Mocha, won $500,000 in Canada. However, Golden Moka got injured, which caused Douglas to have to buy his second and most successful horse, Private Zone."Private Zone has brought great joy into my life. Not only is he one of the greatest sprinters in the world, but he also brings the competition with him. He's one of the best horses in the country and I was lucky to buy him." Douglas said.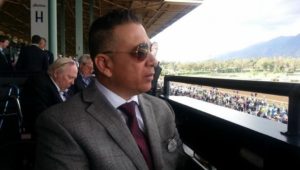 René Douglas being honored during Breeders Cup week. (2016)
After sitting down with René Douglas and being able to interview him, I could tell that the sport of Horse Racing still means the world to him. His advice to anyone who wants to be a future Jockey or future Horse Owner is to give it 110% and that hard works and dedication pays off.