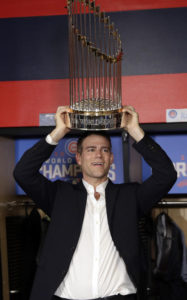 On a list filled with some of the most influential members of the world, President of Baseball Operations for the Chicago Cubs Theo Epstein is named Fortune's World's Greatest Leader. When leaders such as Angela Merkel, Pope Francis, and John McCain are placed below Theo Epstein, then we know Epstein's accomplishment of bringing a World Series title to Chicago was truly a feat for the ages.
So you may be wondering, why might the President of Baseball Operations be considered one of the greatest leaders? If we look back almost five years ago, we look at owner Tom Ricketts. Ricketts was a rather patient man who had worked on a five-year rebuilding program with his General Manager Joe Maddon and knew that the Chicago Cubs needed the charismatic and successful Theo Epstein under the helm.
Epstein was incredibly successful for the Red Sox, and Epstein saw it as a challenge. Epstein saw the Cubs as a diamond in the rough, and in time, he would be holding the World Series Trophy. Through numerous acquisitions of solid draft picks and the domination of the free agency, the Cubs came into the 2016 season hot, and there was no stopping them. They eventually went to the playoffs, and utterly dominated other teams.
Once they entered the World Series Finals, it was a different story. Playing against the Cleveland Indians, many knew that it would be a tough matchup. The series eventually inched up to a 3-1 lead by the Indians. Through perseverance and strength, they came back from the 3-1 lead and eventually pulled through in a nail-biting game 7. The Cubs won, and were able to turn what was considered the laughing stock of the league, into the most dominating team in the nation.