Three Takeaways from MLB Week 1
1. The Underdog Teams are Eager to Make Statements
Before the season began, most of us thought we had an accurate grasp on how teams would perform. After the first 7 days a lot of us are seeing those beliefs slowly disintegrate. "Why is that?" one oblivious spectator may ask. I'll tell you that it is because teams like the Diamondbacks, Twins, and Marlins are leading their respective divisions at the time this article was being written. Sure, a lot of people could argue that Marlins and Diamondbacks are equipped with the talent to make a serious run at their divisions title, and a lot less, but still some, could argue the same for the Twins. After all, these teams are practically in the same boat. All are, generally, teams that have a sufficient amount of young talent lead by a trusted veteran presence that, when combined, could lead to quite the productive roster. Of course, barring any setbacks, if any of these teams were to make it to the postseason, we, as fans, would be unwise to rule any of them out. At the end of the day, every baseball fan should know that once October comes around, what occurs from then on out is completely up to the baseball gods.
2. Madison Bumgarner is Another Animal
I know at first glance this may not seem worthy of being in the top three things that struck me after the first week of the season. However, whenever someone, let alone a pitcher, hits two home runs on opening day, it warrants discussion. The discussion I want to have is whether or not this was a fluke. The reason I mention this is because it really makes you wonder whether or not he, or other pitchers in the National League, can achieve this level of production. When I say, "this level of production", I don't mean hitting two homers a game but rather being a productive hitter in some way, other than advancing a runner via bunting. Obviously, this would be a massive request for a manager to ask of a pitcher. Imagine the reversed situation, telling a batter that he should be prepared to pitch at all times, just in case they're needed. Of course, these aren't equal hypotheticals as batters in the NL aren't tasked with pitching like pitchers are with batting. In fact, the only instance we've seen in which a position player pitches is late in extra inning matchups. There is also the argument that teams are better off if their athletes focus on what they specialize in, which, I admit, is a valid one. Although, it would be interesting to see a new species of players, ones that hit and pitch adequately, come into existence.
3. The Angels May Finally Have a Playoff Team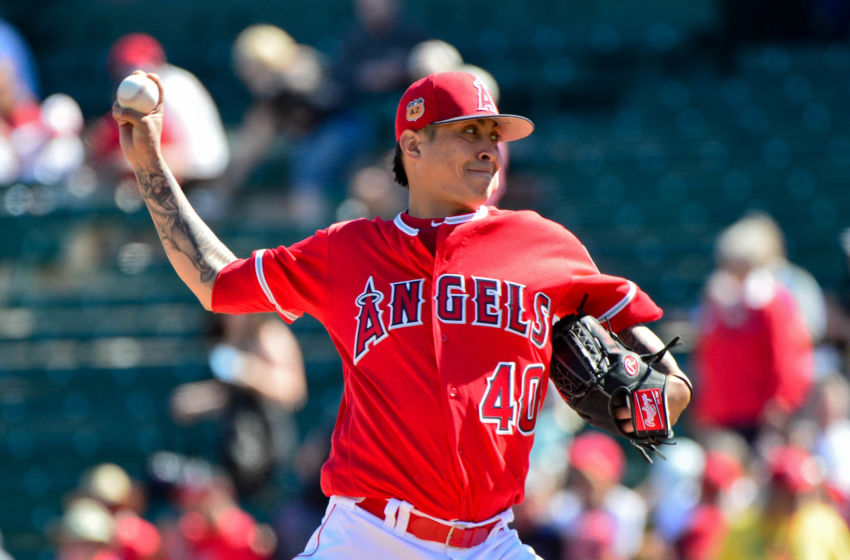 For years now it seems the Angels have been completely underperforming in terms of their expectations. They do have the best baseball player in the Major Leagues in their lineup in Mike Trout and they've been trying to give him the additional pieces he needs to help him make a run at the postseason. I don't want to imply that Trout owns this team (even though he basically does) as there are other exceptional players on this roster, such as Albert Pujols and Garret Richards (who is currently on the DL). Mind you however that outside those three stars, there are formidable pieces that the Angels added to the team that will facilitate the teams playoffs hopes. Names such as Cameron Maybin, Jesse Chavez, and Danny Espinosa. Now I know right off the bat these don't seem like players that are gonna make other teams cower into their dugouts, but they are players who can and have made a difference for their teams. It appears that it could end up coming down to the coaching by experienced manager Mike Scioscia. One thing we know for sure is that the fans in Anaheim are eager for a fulfilling season. As always, we'll have to wait and see.
Week 1 Power Rankings
 Chicago Cubs (4-2)
Washington Nationals (3-3)
Cleveland Indians (3-3)
Boston Red Sox (3-3)
Houston Astros (4-3)
Baltimore Orioles (4-1)
Los Angeles Dodgers (4-3)
Arizona Diamondbacks (6-1)
New York Mets (3-3)
Toronto Blue Jays (1-5)
Colorado Rockies (5-2)
St. Louis Cardinals (2-4)
Detroit Tigers (4-2)
Los Angeles Angels (5-2)
Minnesota Twins (5-1)
Pittsburgh Pirates (3-2)
Miami Marlins (3-3)
Tampa Bay Rays (5-3)
San Francisco Giants (2-5)
New York Yankees (3-4)
Texas Rangers (2-4)
Kansas City Royals (2-4)
Seattle Mariners (1-6)
Oakland Athletics (3-4)
Cincinnati Reds (4-2)
Philadelphia Phillies (3-3)
Chicago White Sox (2-3)
San Diego Padres (3-4)
Milwaukee Brewers (2-5)
Atlanta Braves (1-5)