We have reached the quarterfinals, in what many consider the best World Cup ever. This World Cup has featured many surprises such as Germany being eliminated in the Group Stage, Russia upsetting Spain, and Sweden and Croatia reaching the final 8. Two teams that have stood out more than the rest are Les Bleus of France and La Canarinha of Brazil. While both teams will have their toughest games to date in the quarterfinals, it is hard to argue against these two being the best teams in the world now and having the potential to be the best in 4 years in the 2022 World Cup in Qatar.
The Case for France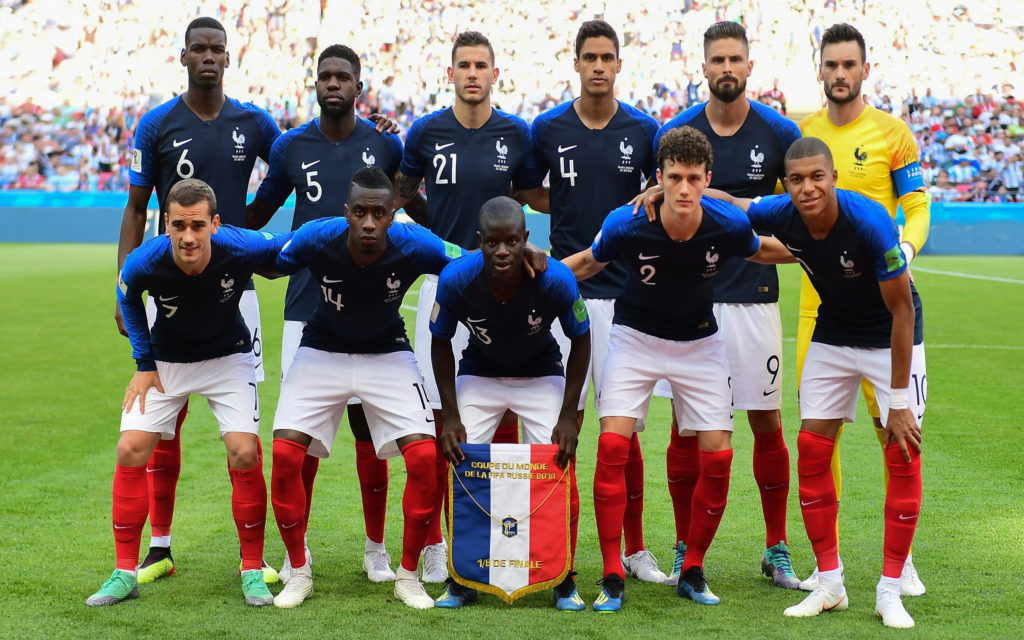 2018 French National World Cup Team. Photo via FIFA
France has probably been the most exciting team to watch throughout the entire World Cup. Outside of their match against Denmark, a 0-0 draw that did not change the outcome of the group, France has been the most dynamic team with what is possibly the deepest and diverse group of players. Led by Captian Hugo Lloris, Manchester United superstar Paul Pogba, and Athletico Madrid ace Antonio Griezman this French group is loaded with talent from top to bottom. What allows France to be so well versed against any style of play is the youth and skill of the team. Sporting one of the youngest team France has a starting line up featuring, 19-year-old Midfielder Kylian Mbappe (Paris Saint-Germain), 25-year-old Midfielder Paul Pogba (Manchester United), 22-year-old Defender Benjamin Pavard ( VfB Stuttgrat), and 24-year-old Defender Samuel Umtiti (Barcelona). The sheer youth and talent of this team is evident and is not only being put on display in Russia at the World Cup but is put on display on a weekly basis at their respective clubs. France has the talent, the youth, and the determination to not only win the 2018 World Cup but can also place themselves at the drivers seat for the 2020 Euros and the 2022 World Cup.
The Case for Brazil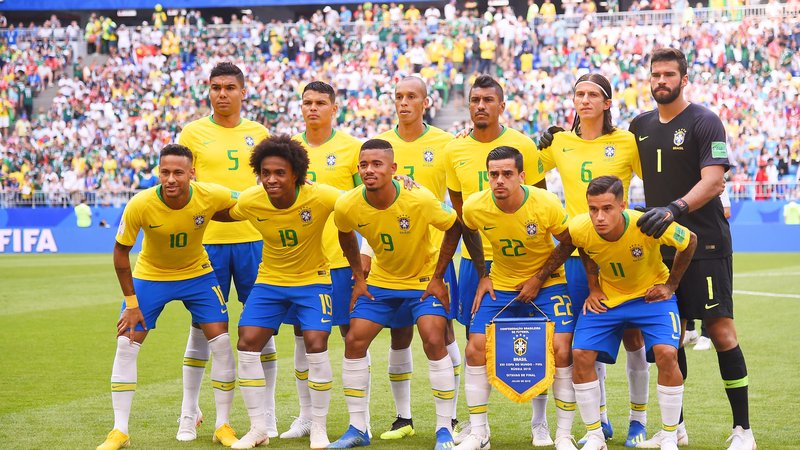 2018 Brazil National World Cup Team. Photo via FIFA
The last time Brazil made it this far in the World Cup we saw them get destroyed 7-1 in the Semifinals versus the eventual World Cup Champs Germany. This is not the same Brazil team. Brazil has not only been playing with a sense of swagger and determination, but they have easily had two of the best players in the entire tournament with Neymar and Phillipe Coutinho. Just like France, this Brazilian team is filled with young talent and a great Captian in Real Madrid's Defender Marcelo. Led by 26-year-old Forwards Neymar (Paris Saint-Germain) and Phillipe Coutinho (Barcelona), 21-year-old Striker Gabriel Jesus (Manchester City), and 25-year-old Goalkeeper Alisson Becker (A.S. Roma), this group of players have shown that age and inexperience is not an obstacle but helps fuel this team's determination. Brazil is able to beat any team with a fast-paced scoring attack and a blistering defense. Belgium will be this team biggest obstacle but it is hard to imagine not seeing Brazil advance to the final of this years World Cup if they are able to get past the Red Devils of Belgium.

 1998 World Cup Final Brazil 0 – France 3. Photo via FIFA
With both of these seeming likely for greatness and reintroducing a rivalry with as much talent and renown that could possibly be featured against two teams, it is truly hard to choose one. These two teams are proving that youth and planning for the future can give you a great chance in the present. France and Brazil have a grand chance of creating a new chapter in the history of World Cup soccer. This could possibly become a new chapter and while there is a 25% chance these two teams face off in the semifinals for a shot at the finals, and if this is to happen there is a 100% chance that we will be witnessing what could possibly be the two best teams in the entire World.